AMAC Taekwondo Singapore has been registered for lifetime affiliation to the World Taekwondo Changmookwan Federation, headquartered in South Korea.
Iskandar Yoeh was born in 1974. He is a father to 3 children who are also Taekwondo black belt holders. He is now a Vice President with one of the Financial Institution in Singapore. He started his Taekwondo training in 1985 (Indonesia). From 1990, Iskandar started his journey  as an assistant instructor, he is currently a holder of high Dan level in Taekwondo. He move to Singapore in 2001 and continues his Taekwondo training & education.
Some of his other exposures are:
Kukkiwon Master Instructor and Poom/Dan Examiner

International Master, Global Promotion Manager and General Manager for Indonesia & Singapore of World Taekwondo Changmookwan HQ, S. Korea

National Instructor of Indonesia Taekwondo Association

Technical Advisor for Jeonsa Taekwondo Academy & Thamrin Taekwondo Academy (Indonesia) and Asian Martial Arts Center Singapore

International Technical Director for Changmookwan Taekwondo at Brigham Young University (BYU) in Hawaii and Utah, United States of America

Management Committee Member of Singapore Martial Arts' Instructor Association

Singapore Sport Council – Certified National Coach Accreditation Program
Iskandar is also a black belt holder in Hapkido, Korean Honshinshul and had the privilege to attend various trainings in Unarmed Combat/Close Quarter Combat, Japanese Martial Art of Aikido and numerous Special Training with prominent Taekwondo Grand Masters from South Korea and the rest of the world.
Iskandar has well rounded experience and exposure in Taekwondo Sparring, Self-Defense and Patterns. He has a proven track record as a Medalists athlete and continues to actively participate in open international tournaments. As an instructor, he has produced countless black belts, instructors, best players, and champions at national and international levels. He has a strong interest in teaching of General Taekwondo Class for both Kids and Adults, Competition Training Center and Black Belt Class.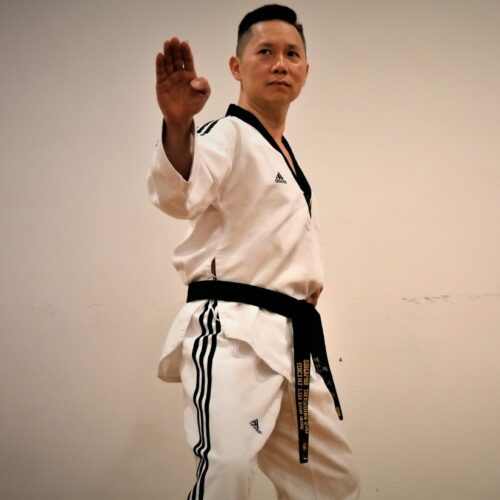 One of AMAC's founders is Dr. Vincent Lim, PhD, started his Taekwondo journey in 1991 when he was captain and founding vice-president of Temasek Polytechnic's Taekwondo Club and Martial Arts Society.
• Instructor for SAFRA Mt Faber 2022, Pasir Ris Zone One 2017-2022
• Kukkiwon Blackbelt 3rd Dan
• ChangMooKwan Blackbelt 5th Dan
• Singapore Taekwondo Gymnasium Blackbelt 5th Dan
• Gold medal in beach Poomsae, World Championship of Changmookwan ePoomsae 2021
• Gold medal in Tiles-Breaking and Poomsae, Queenstown Taekwondo Taekwondo Festival 2019
• Gold medal in Tiles-Breaking and Poomsae, STKDG 2018 Taekwondo Festival, at Singapore Judo Federation.
• Gold medal in Poomsae, Sikh Centre Taekwondo Tournament 2017, at Geylang West CC
• Certified Taekwondo Instructor, Asian Martial Arts Center and Singapore Tae Kwon Do Gymnasium
• Management Committee member of Singapore Taekwondo Gymnasium
One of the Founder of AMAC-Coach Tan Wei leong
Known to the track and field community, Coach Tan has been an active contributor to Singapore's track & field arena for over 25 years – as national athlete, coach, club founder, educator, and entrepreneur. He continues to actively support programmes of ActiveSG and Singapore Athletics.
Coach Tan's key qualifications and contributions include:
• NROC Master Coach
• Holder of two World Athletics Level 5 Coaching Diplomas (each with Distinction)
• Sport lecturer at various tertiary institutions
• National track & field coach for two SEA Games
• Two-time recipient of the National Registry of Coaches Award
• Produced multiple school champions and record holders at national schools level
• Multiple DSA successes.
Benjamin Ang began his martial arts journey as a Taekwondo practitioner when he was 18 years old. Starting at that age was no easy task for him as the muscles were already stiff, and martial arts is all about flexibility. Taekwondo set a good foundation for Benjamin as footwork and balance are needed for the kicks, especially when sparring. After his first multi-martial arts tournament against Muay Thai, he learnt that each form of martial art had their own rules. This spurred him on to study the various types of arts there was to offer.
Boxing is vastly different from Taekwondo, but having established strong foundations in both Taekwondo footwork and techniques helped Benjamin greatly in understanding the flows when learning boxing. Amongst all the various forms of weapons trainings, Benjamin took to Kumdo in his next journey. Kumdo training emphasises greatly in hitting the opponent in the fastest, simplest and smoothest of movements. Being exposed to the many different training methods and environments over the years have allowed Benjamin to plan for and cater to the training programmes to a diverse group of people seeking to begin their own martial arts journey in the next chapter of their lives.
Tournaments which Benjamin have participated in and Certificates he holds:
• Bukit Batok East Constituency Sports Club Multi-Racial Martial Arts Invitational Tournament (1st July 2007)
• 9th International Invitation Taekwondo Chungdokwan Championship and Junior Taekwondo Tournament (20th March 2008 – 22nd March 2008)
• Singapore Taekwondo Gymnasium 3rd Taekwondo Instructor Training Course (14th June 2009 – 5th July 2009)
• National Coaching Accreditation Programme (NCAP) Theory Course Level 1 (19th March 2010)
• Chairman for Geylang West CC Taekwondo (2012)
• Boxing – Pride of Singapore 1 (17th March 2018)
• World Taekwondo Hanmadang (Jeju, 28th July 2018)
• Singapore Kendo 8th Interclub Kendo Tournament 2019 (3rd February 2019)
• Singapore Kendo 9th Inter-Club Tournament 2020 (2nd February 2020)
• 10th Japan W.A.T.A. Open International Taekwondo Championship 2012
• Chairman for STKDG Open International ePoomsae Championship 2022
• STKDG Taekwondo Blackbelt 5th Dan
• Kukkiwon Taekwondo 1st Dan